Employee Recognition &
Engagement
Replace outdated methods. With a quick setup, you can make peer-to-peer recognition and pulse surveys a key part of your work culture, making teams stronger and more productive.
Integrated for simple setup and usage
Leading companies trust Tap My Back
Don't just take our word for it






These companies are building a continuous feedback culture
Nobody uses paper cards anymore. With a couple of clicks, you can now recognize your teammates' good job.
64% of employees that quit their jobs say they did not feel recognized. Now, whether at the office or at home, you can recognize your team's amazing performance in real-time and on the go. Our system provides you with an easy to integrate platform where insights on team dynamics and patterns can be found, ensuring you are always moving in the right direction.
Book a demo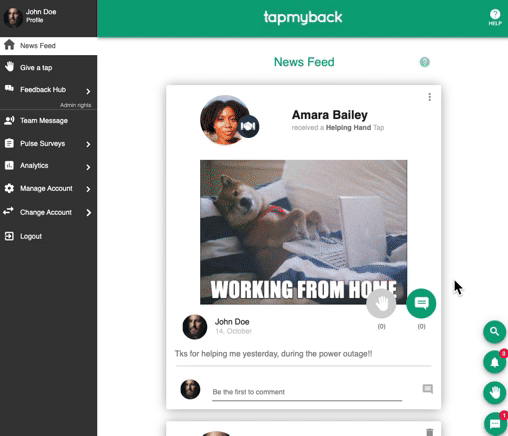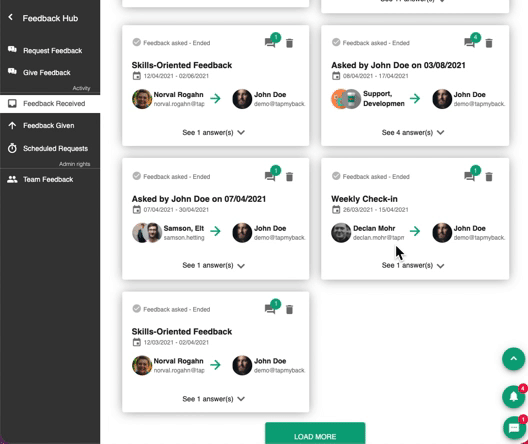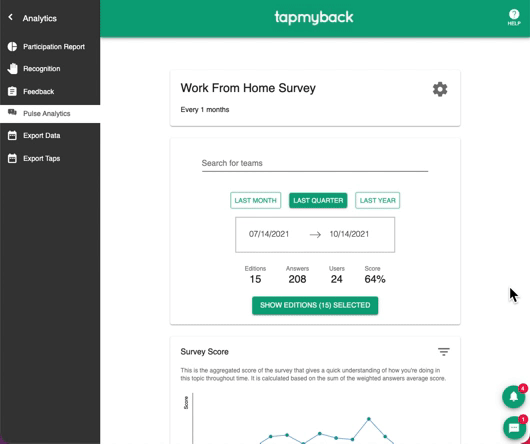 Unmotivated team? Let them know you care!
Motivation-related problems are easier to solve when using a straightforward feedback and recognition system. Discover your team's needs and make meaningful data-driven decisions, elevating your team to its full potential.
Get Started Today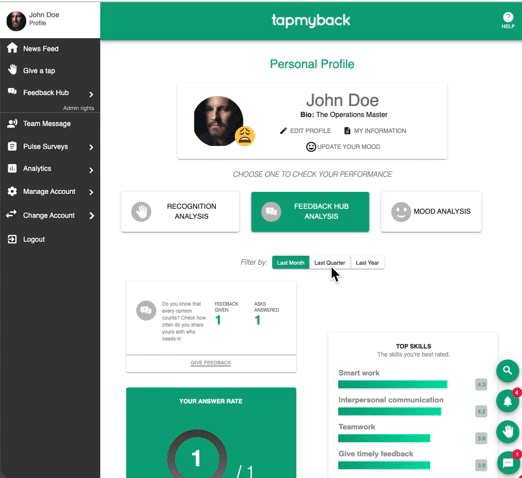 Having trouble discovering how teams are coping with remote work? Let them give you the answer.
Know how your employees feel and manage their expectations. Create your own Surveys or choose from our Templates and automate their launch. Here you can also launch Mood which tracks employees' Mood over time. Tip: keep each survey small, to maintain high response rates!
Watch a free 2-min demo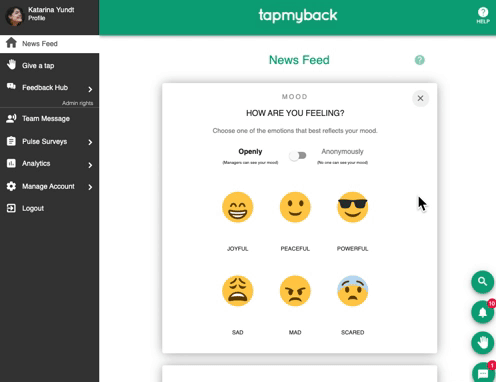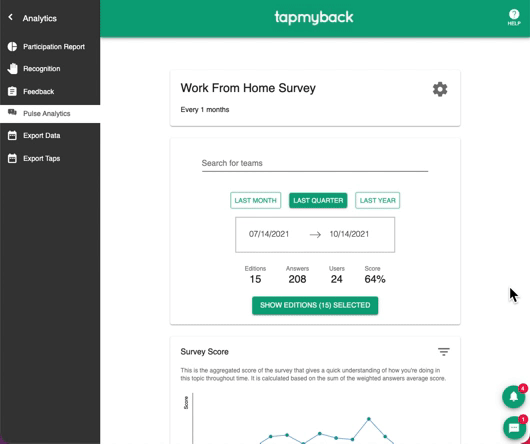 Onboarding support & help with the rollout strategy
Feel at home with your own branding and structure
A team focused on your success
Build to integrate with Microsoft Teams, Slack & Google
Chrome Extension & Gmail
Quickly Share Taps & Feedback, see notifications and access your profile while doing your daily activities.
Microsoft Teams Integration
Give recognition, feedback, check your news feed and profile directly from MS Teams.
Slack Integration
Make recognition and feedback part of your workplace culture quickly and effortlessly.
What are our customers saying?
Ana Mariani
Communication Supervisor, McDonald's
Tosh Hudson
Client Manager, University of Arizona
Eduardo Mendes
HR Manager, Pernod Ricard Portugal
Gary Prignano
Senior Facilities Manager, CBRE
Joaquim Leal
Head of Internet & Mobile, Millennium BCP
Listen, Lead and Engage: start today with ready-made templates and analytics
Free trial・No credit card or code needed・Instantly see how to improve engagement
Try it out